WW: Most people these days only remember Billie for her iconic role as Glinda in MGM's The Wizard of Oz (1939), yet she was an accomplished actress on Broadway, in silent films, on radio and even the early days of TV. She did it all. Talk a little bit about her place in entertainment history.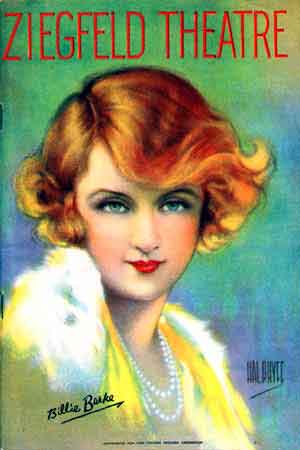 GH-M: As Donald Spoto wrote, there was really no one like her, and that unique personality—dithery, bubbly, forgetful in an endearing rather than annoying way (though Sir Salman Rushdie, who disliked her Glinda, would disagree), and utterly honest—was a construct of Billie the Edwardian stage beauty, from whose slipper rich men sipped champagne, and the comic genius that always lurked under the surface and could have made her a great character actress from the beginning, had she faced and accepted her own gifts. Billie's daughter told me her mother worked very hard to become the Billie Burke we know from her roles as Millicent Jordan in Dinner at Eight or Clara Topper or Emily Kilbourne in Merrily We Live, her one Oscar nominated performance. I contend, based on how Billie's managers tried to steer her—managers like Charles Frohman and, of course, husband Florenz Ziegfeld—that these discerning theatre professionals knew that Billie tended to overact, and to depend on what can only be described as a kittenish sensuality so attractive to male theatergoers of the 1900's, and that if these were harnessed to her superb sense of timing, she could be an outstanding comedienne. She rarely knew which were the best roles for her, and would invariably go for the role of the witty or tragic beauty rather than the character parts for which she was so well-suited. She only realized this gift late in life. Her philosophy was better late than never, so at least she never gave up.

WW: How much of Billie's two autobiographies, With a Feather on My Nose and
With Powder on My Nose, are true?
GH-M: Billie's memoirs were dictated to Cameron Shipp, a ghost writer who had also worked with Mack Sennett and Lionel Barrymore. But as Billie's daughter and grandchildren clarified for me, Shipp did not write Billie's books. He took her capacious notes (sometimes pulling them from behind sofa cushions) and her hours of taped recollections, and knit them together. Anyone reading Billie's own articles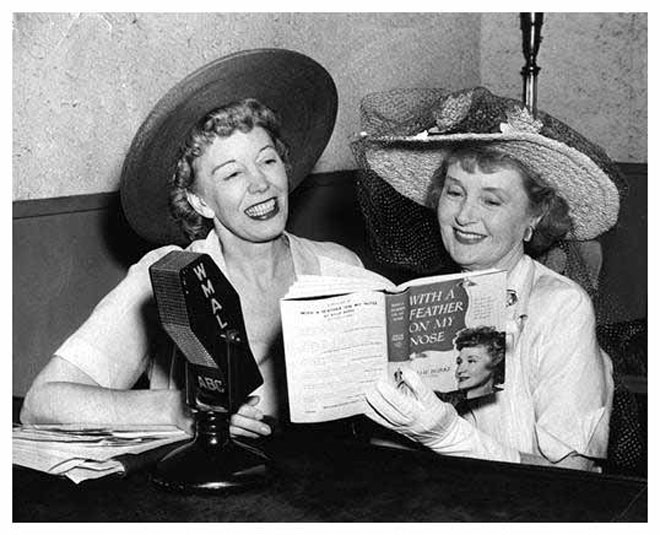 published in the New York Times and elsewhere after she came back to America in 1907 can see the same style in her memoirs years later; and her many letters are written in the same vein—a trifle breathless, sometimes coy, sometimes gushing, often witty, occasionally insightful, always charming.

Her former press agent, Bernard Sobel, was annoyed with Billie's memoirs on two counts: that she mentioned nothing of Flo's affairs (one must ask how she was supposed to work that topic into her narrative in an era when one did not let it all hang out), and that she was utterly silent on what it was like working with playwriting greats like W. Somerset Maugham, Booth Tarkington, Noel Coward, and the like. I feel the conversational nature of how her memoirs were put together is at fault there. One of the early reviewers of With a Feather On My Nose aptly describes the book as if written while the author lay fetchingly on a silken chaise longue, and that isn't far off from the truth. Another area where Billie put one over on her readers, and one she inherited from her formidable mother, Blanche Burke, was that her maternal family were slave-owning New Orleans people of refinement, who ordered their writing paper from Paris, and so forth. In actuality, as Billie's family told me and the records bear out, they were working class people from Ohio. It was that era where a beautiful actress of romantic comedies had to come from a beautiful romantic genealogy. Ironically, Billie was descended from English gentry and early Dutch settlers of New York through her maternal Grandfather Beatty, but he is never mentioned in her memoirs.

WW: What drew you to write the biography of Billie Burke?

GH-M:
Billie was a good friend of Charlotte Greenwood's, and lovingly inscribed a copy of Feather to Charlotte (another actress who was unfairly stereotyped by Hollywood). My friend the playwright William Luce was like a son to Charlotte and husband Martin Broones, and met Billie several times. On one occasion, Billie gave him a record of herself singing and reciting nursery rhymes, a sweet, poignant recording that I found fascinating, especially since Billie was said not to have done her own singing in The Wizard of Oz (a claim we know now is not true, as I describe in my book). I also heard that Billie was in person a forthright, business-like, focused and funny woman who was nothing like the dithery matrons stereotyping Hollywood consigned her to play. I read her memoirs and enjoyed them, but I also looked into her past as a star of Edwardian Broadway, and found she was considered a gifted actress in parts which were, again, nothing like what Hollywood made of her. The tragedies of her life attracted me as well. Her papers at the University of Southern California Cinematic Arts Library fascinated me further, with all the saved menus from suppers aboard the Lusitania and enthusiastic notes from prime ministers, presidents, princes and millionaires, along with great actors and actresses of the stage, with hundreds of photos of her as a young star, and stacks of reviews describing an actress very different from the one we know of as Billie Burke. It was a bit like the time-travel in Somewhere In Time, where in this case the silly old lady became a svelte and witty young beauty, the toast of London and New York. As George Cukor said, Billie was called on to shoulder burdens and tragedies that few are given to deal with, and she handled the worst of them with grace. All of that together made me want to know more about her, and having discovered that more, to share it with a world that still thinks Billie was Clara Topper off screen as well as on.
WW: Was the role of Glinda the Good Witch just another role, or did she feel
that it was the iconic role for her?

GH-M:
When Margaret Hamilton's witch was seen to be so mean, green and nasty, it was decided that a glamorous Glinda was needed; and with her red hair and blue eyes matching those of Baum's Glinda of the South (into which character was subsumed that of the elderly, giggly Witch of the North), MGM had the good fairy they wanted. Billie loved this role, because in her own words, "it was so much like the roles I had played in the theatre." Elsewhere she described the costume as making her look like a refugee from German opera, but she had loved playing any stage part that gave her a beautiful dress to wear and a graceful role to play, and Glinda fit the bill perfectly. Nobody then or now can believe she was well into her 50's when she appeared in The Wizard of Oz.
I can see Billie's "type" in a number of actors who have also become identified with a certain role, regardless of the fact that the women who play them are very different people in real life—Betty White is one, while another is Meghan Mullally, whose Karen Walker on "Will & Grace" is a kind of potty-mouthed version of the roles Billie is remembered for playing. And Billie was the poster girl for actresses who wanted to have a career with more than one act. She covered all the bases, from musical comedy sweetheart in London to stage beauty on Broadway to silents and talkies and radio and television. She kept working till, as she said, it wasn't fun anymore, in a career many of her contemporaries must have envied for duration and variety.

WW: What Hollywood film roles do you think are her best?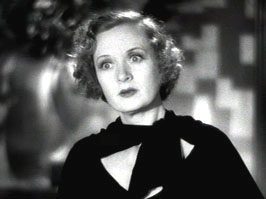 GH-M:
First on the list would be her role as Glinda the Good Witch from The Wizard of Oz. But she was also marvelous as Millicent Jordan in Dinner at Eight, the film that really launched her as the dithery fussbudget matron type—and who in that cast wasn't fabulous? I also admire her last full role, as Cordelia Fosgate in the John Ford Western, Sergeant Rutledge, from 1960. It's the complete realization of what this actress, then 76 years old, was able to do, as a comedienne and as a serious actress, at the end of a career of almost 60 years.

WW: Billie was quite the traveler, having been born in Washington, DC, moving to
London, England, then on to Broadway in New York City, then Hollywood, CA.
What were some of her favorite places?
GH-M: Billie spent her first few years in the New York area, where her father worked at Coney Island and Sheepshead Bay, but when she got older and he began to tour Europe, she accompanied her parents to France, Germany, Russia and parts in between. She became a fixture on the great ocean liners of the 1900's, back and forth from London to New York, and later with Flo and daughter Patricia. She liked London and in fact attributed her mid-Atlantic accent to having spent her youth and education there, and had had an aristocratic fiancé with a great house in Devonshire, but I think her estate near Hastings-on-Hudson, Burkeley Crest, was her favorite place in the world. That is, until she was forced to auction off its contents in the early 1940's and sell it for what she could get out of it. She had paid cash for the place in 1911, the equivalent of high six figures today, and sold it for a quarter of that three decades later, thanks to the mortgages occasioned by Flo's debts and the stock market crash of 1929. In her little house in Brentwood she still had the great bronze gate signs proclaiming the estate's name, which had been bolted to the stone pillars at the entrance to the drive. It was a kind of lost dream to her, with its exotic menagerie and tennis courts and miniature Mount Vernon playhouse for Patricia, its flowers that Flo loved and the fact that Flo's influence was everywhere to be seen. The loss of Burkeley Crest was one which she never really faced and accepted.

WW: Where did she get her nickname of "Billie"? Her real name was rather
unusual, being Mary William Ethelbert Appleton Burke.


GH-M:
This is a bit of a mystery. Some sources say that Billie's parents had wanted a boy and when they got a daughter, decided to name her after the father anyway—Billie was the result. Billie claims in one source that she disliked the name Ethelbert (her father's middle name) because she didn't want to be called Bertha, so adopted Billie. In another, her memoirs, she claims she had herself baptized at Westminster Abbey as a teenager, Mary being the contribution of the presiding minister. Last but not least, one of the boarders Billie's mother, Blanche, took into her house in Washington, D.C. before her marriage to Billy Burke was one William Appleton. It's a mystery!

WW:
Tell me a bit about her father. I understand he was a circus clown.
GH-M: Billie's father, Billy Burke, was not a circus clown per se, but a singer who performed in modest clown paint, in white costume with a ruff around his neck, who had what is described as a beautiful baritone voice, and mesmerized crowds who expected this clown to enter the ring and do pratfalls. Billie writes that while her father sang, even the pacing lions and elephants stood still to listen. He was a comedian with an edge of poignant feeling, which in her best performances is exactly what Billie herself delivers. She believed she inherited this from her father, and I agree. Ironically, it was Billie's mother, whose aspirations to the stage were never fulfilled, who pushed Billie in show business, while her father warned against it. He died in England, just before Billie was invited to perform on Broadway in 1907 with John Drew.

WW: Most kids want to run away and join the circus, but Billie was already there.
Do you think this played into her comedic talents?

GH-M:
Billie doesn't seem to have spent much time around the circus, except when her father was performing or wanted to see some of the famous international clowns of the day. I do believe she inherited her father's comedic timing and his ability to present comedy in a silly but sensitive way. As I point out in the book, she could have started out as a comedienne, playing up her beauty and gracefulness, from the beginning, and graduated to the sort of deep character roles I know would have been superb for her. But she had to be the beauty, had to keep erasing the decades as far as stage makeup and tape and retouched photography, as well as lying about her age, would take her, only embracing who she was toward the end of her life.
WW:
When Billie was about 30 years old, she married Broadway producer Florenz
Ziegfeld. There was almost 20 years difference in age between Flo Ziegfeld and Billie,
yet they stayed married until Flo passed away. What do you think kept them together?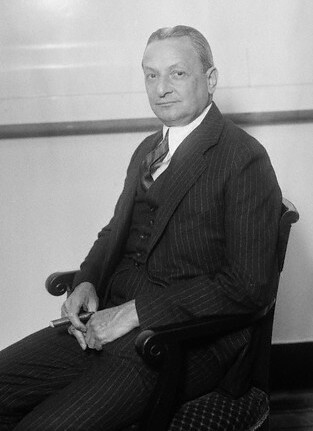 GH-M:
As I state in the book, I agree with Isak Dinesen, who said that nobody but the two people involved in a marriage can really know what brought them together and keeps them together. I think, though, that while Flo romped at will among fields of Follies girls, he needed a nurturing home base, which Billie was uniquely qualified to give him. She herself said she loved Flo because for all his flaws, he was a genius, a man above other men, who because of this genius could not be expected to act like other men. He put her through hell, and she almost left him several times, and it will surprise people to hear that she smashed a lot of crockery in arguments with him. But they were two parts that made a whole, and neither ever seriously made a move to break that whole apart. They had Patricia to think of, but they also loved each other, even after all his affairs, as passionately as the night they met at the Sixty Club in Manhattan in 1914.
WW:
Billie had the unusual role of playing opposite Myrna Loy in The Great Ziegfeld.
Myrna played Billie as the wife of Florenz Ziegfeld. Did Billie ever comment on
Myrna's interpretation of her?
GH-M: It is often stated that Billie had a role in The Great Ziegfeld, but she did not—she had some script approval and her daughter, Patricia, assisted the script writer with research, but that was the extent of either Ziegfelds' role in the film.

Billie liked Myrna Loy, and Loy turned out an excellent performance as Billie without caricaturing her. But Billie would have preferred Miriam Hopkins, as she told the press before the role was cast. She felt her exuberance and energy were more similar to what hers had been when she met Flo Ziegfeld in 1914. And she told Barbara Rush many years later that Loy "wasn't much like me."
WW: I understand that Billie and Flo's only daughter Patricia passed away last year. Did she travel around with her mother during the heyday of Hollywood?
GH-M:
Because she had concerns about Patricia's health, Billie often brought her along on tour when she was older, and Patricia even had a bit part in an Ivor Novello play in which Billie starred. I conjecture in my book that Billie may have also brought Patricia with her because she feared she might be exposed to one or another of Flo's affairs. In her memoirs, Patricia describes being taken by Flo when she was a tot to Marilyn Miller's dressing room, where Miller, alternately in love with and in hate with Flo, dressed him down in the bluest of language. I think Billie wanted to keep the truth of Flo's philandering as far from their daughter as she could and for as long as possible.
When Flo died in 1932, Patricia, a teenager, took over for her mother and in effect mothered her. Billie in turn was concerned only with establishing a safe, comfortable home for her daughter, which she did, in Brentwood. Billie didn't want Patricia to grow up too soon or become jaded by the world of show business and riches (while they lasted); and while Flo's death did give Patricia responsibilities beyond her years, as George Cukor described in his eulogy for Billie, she did grow up remarkably normally. When I met her, in her 90's, was as down to earth and charmingly frank as could be. I think that is a testament to both Flo's and Billie's parenting efforts.
WW: During WWII, Billie had a radio show called "Fashions in Rations". Was this
her part of the war effort, or just another sit-com?

GH-M:
This was the original name for The Billie Burke Show, which ran from 1943 to 1946. It was part sitcom, part advice to housewives about how to carry on without nylons or enough sugar for baking. In the book I reproduce a photograph of Billie from my collection, showing her in an elegant outfit and diamond brooch, poised over a mixing bowl while dispensing kitchen wisdom into a CBS microphone. Billie was not a cook and made no claims to be one, though she gives recipes in her second memoir that were handed down to her from Flo's mother. Billie played the comic type well known to most people tuning in, in which, when warned by her maid that a transient has appeared on the doorstep, cries, "Oh, chase it away! Those big spiders are poisonous!"
WW: Lastly, have you heard of the pop group named "The Billie Burke Estate"?
GH-M: I have heard of it (though not heard it), and understand they named themselves after the old Burkeley Crest property at Hastings, where the players as kids used to go sledding. Or so Google tells me!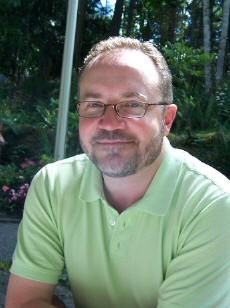 ∆
Grant Hayter-Menzies' work ranges from historical biography, translations and poetry to reviews of music, art, books and film. He is also a classically trained pianist. He lives in Sidney, British Columbia. He will be a featured speaker at the 2009 International Wizard of Oz Club's National Convention in Kansas.

Mrs. Ziegfeld: The Public and Private Lives of Billie Burke, is scheduled for publication in spring 2009 by McFarland & Company.
Grant can be reached at grant_menzies@yahoo.com

Blair Frodelius lives in upstate New York and is the current editor of The International Wizard of Oz Club's Website; The Daily Ozmapolitan; and OzProject.com. He can be reached at blair@frodelius.com

--Interviewed by Blair Frodelius; Jan 20, 2009


Home Again