The Original Spice Girl
A Conversation with Julie Reiner
"I love when I go into a bar and I think, 'Wow, never thought of that." - Julie Reiner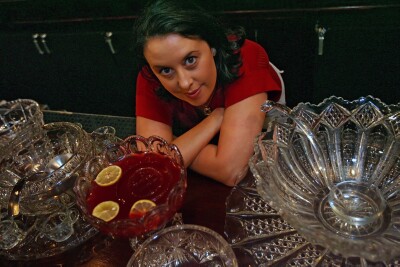 Julie started bartending in NYC in 1997 where her fine work creating drinks using fresh fruits and spices was quickly noticed by Dale DeGroff. Thirteen years later she is now the beverage director and co-owner of NYC's Flatiron Lounge and Clover Club, as well as co-owner of the Pegu Club and a soon to be opened tropical themed club inspired by her childhood home of Hawaii. We started out by talking about her early influences in the islands...



JR:

Hawaii was a wonderful place to grow up! I spent my childhood there, so I wasn't exactly as into cocktails as I am today. I was swigging Popov Vodka and chasing it with Slice at beach bon fires. The drinks culture was always based around the tourists who visited Hawaii. I started out cocktail waitressing at age 18 in Honolulu, where I grew up. I was always intrigued by what was happening on the other side of the bar, but I never saw female bartenders where I was working (or many other places for that matter.) I finally got behind the bar when I was in college and it felt like home, so I kept seeking out bartending gigs from that time on.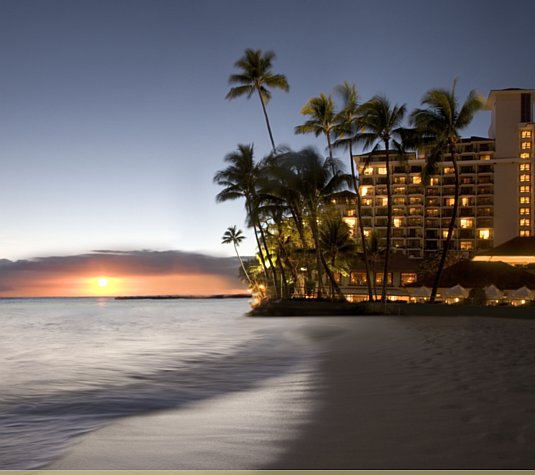 Until recently, there were only a few select places to get a good cocktail. The Halekulani Hotel

(pictured at left)

is at the front of the pack when it comes to modern mixology. They hired Dale Degroff quite a few years ago to help with their cocktail program. In the Lewer's Lounge, you will find cold draft ice, and well crafted, jigger measured drinks. Francesco Lafranconi has assisted quite a few places with cocktails, so it is spreading a bit. I keep saying that when NYC wears me down, I'm going to move back and run a lounge on the beach. One Day!!



GSN:

Your latest venture is tropical themed. Is this a tie-in to the current Tiki revival?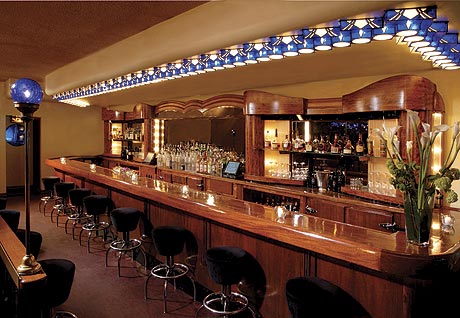 JR:

Just to set the record straight, my next project is NOT Tiki themed. I grew up in Hawaii, and wanted to create a lounge that has a tropical feel to it, but that is elegant and classy. The bar program will be in line with my other bars, but will utilize more tropical flavors, teas and spices. I will be creating the menu with my head bartender Joseph Swifka who is currently at Flatiron Lounge

(at right)

. He has a great palate for tropical cocktails, so I thought he was the perfect choice. We will serve Pacific Rim food, and be open for brunch as well as dinner. My goal is to teach people that Hawaii does not equal TIKI, the same way Times Square does not represent all of NYC.



GSN:

What about pairing food with cocktails? Does this increase traffic or is it more about creating a place where people can stay for awhile?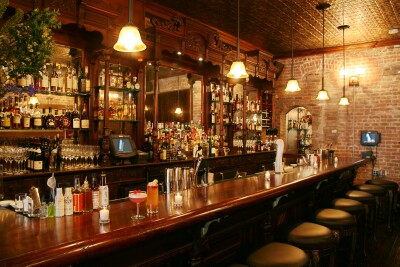 JR:

Having a serious food program has been great. I like cocktails with specific styles of food. I love a cocktail with spicy foods, or foods with an asian flare -- also, the small rustic plates work really well with a well balanced cocktail. However, I usually prefer a cocktail before my meal, wine with dinner and then a nightcap. At Clover Club

(at left)

, we were lucky enough to have a very talented chef, Craig Rivard. He has really changed our food program, we have quite a few guests who come in for the food first, and cocktails second. Clover has a reputation for having great rustic food and certainly much more than small plates. We currently serve brunch on weekends, and are getting ready to launch lunch this summer. We are clearly known for the cocktails, but I feel having a strong kitchen makes the place complete. I love that we are moving more into the direction of places like the Stork Club where you would go for both dinner and cocktails. It's a complete package.



GSN:

As a bar owner, how do you manage to balance high quality cocktails and still remain profitable?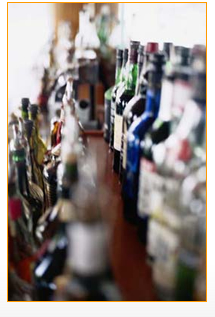 JR:

We run a very tight ship! My inventory and cost is monitored very closely; we know when something is off. Also, just because a cocktail is high quality, doesn't mean it is costly. I make sure that the drinks that are featured on the menu are not only delicious, but also cost effective. We try to teach our bartenders the business side of things, as well as the artisinal side, so that when they reach for a bottle to make a cocktail, they think about the cost of the drink and whether it is worthwhile for the house to serve that drink.



GSN:

What is the most important advice you would give to anyone thinking of starting their own bar?



JR:

Learn the business! It is a huge mistake to think that just because you are a good bartender and know what happens behind the bar that it translates into how to run a successful business. Learn the business side of it before you dive in.



GSN:

This may be an unfair question, and you don't have to name names, but what are the big mistakes you see other bars making these days?



JR:

Not training new bartenders. There are some operators who prefer to take talent from other bars than add to the pool by training new ones. The industry doesn't grow if we don't water it!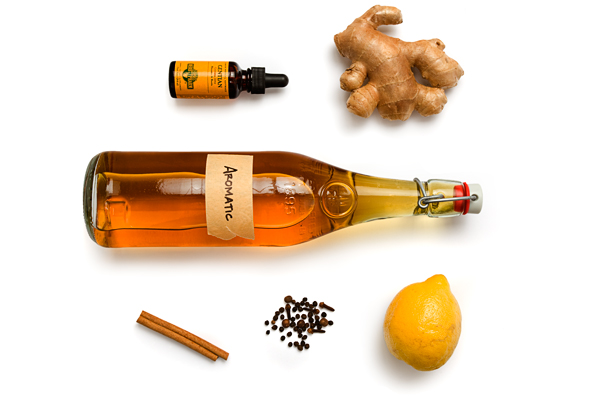 GSN:

In your opinion, is there a need for more hand crafted ingredients such as syrups, bitters and infusions on the shelf? Or are things getting out of hand?



JR:

There's always a need for quality products. The market has just been flooded with them lately. Some good, some bad.



GSN:

Speaking of bad, have you ever had a custom cocktail on your menu that has absolutely flopped?



JR:

There are occasionally those cocktails that don't sell for one reason or another. Sometimes we put drinks on that we know aren't going to be the most popular, but that have a small following. They have their place on the menu too. They all can't be crowd pleasers.



GSN:

What drink have you created that you are most proud of?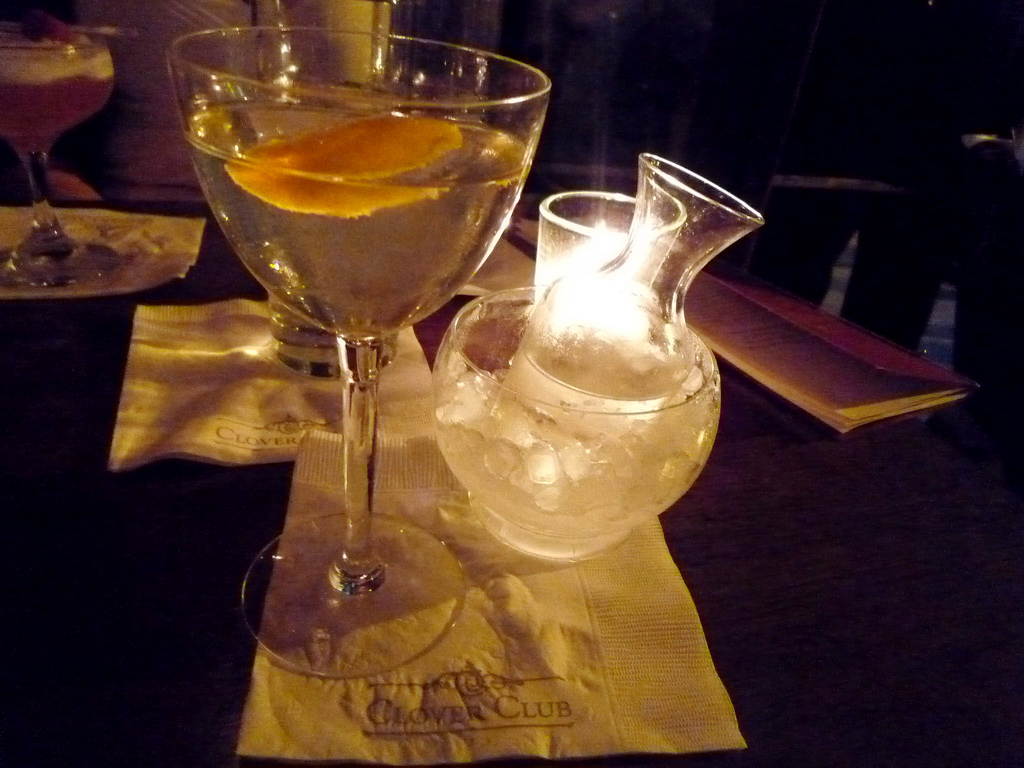 JR:

There have been so many over the years, but if I had to choose, I would say the Gin Blossom. It is my partner Susan's favorite happy hour cocktail, and a staple on the Clover Club menu.




GIN BLOSSOM

1 ½ oz Plymouth Gin

1 ½ oz Martini Bianco

¾ oz Apricot Eau de Vie

2 dashes Orange bitters

Stir and strain into a Nick and Nora glass

Garnish: orange twist



GSN:

How do you go about teaching the general public about what makes a quality drink? Do you have tastings or classes, or is it more informational via the menu and bartender?

JR:

We go with a one on one approach. The bartenders and cocktail servers are the ones educating the public. When I opened Flatiron in 2003, we had to do a lot of educating. We served cocktail flights as a tool to educate the public on cocktails. We would verbal 3 drinks to our guests before they ordered which would start a dialog about drinks. Even if they didn't order the flight, often times they would order one of the cocktails on the flight instead of that vodka tonic that they always drink. The public are much more savvy now, we don't have to work as hard.

GSN:

Why do you feel that New York has become the mecca for the cocktail revival, as opposed to let's say San Francisco, Chicago or New Orleans, all of which have historical ties to cocktail culture?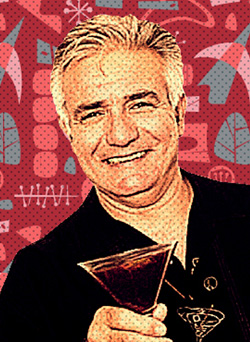 JR:
New York is a city that the world watches. If you succeed at something here, it is global. There are great things happening in other cities, but NYC has a signficant history as well as a thirst (no pun intended) for the best of everything. Some key things in cocktails happened here. Dale Degroff
(pictured at left)
at the Rainbow Room, Milk and Honey opening in 2000, a core group of cocktail geeks finding each other. ...and ultimately NYC has an energy and appeal that I feel is tough to rival.
NYC is also the home of competition! There's competition to sell hot dogs on a specific corner, or to get a seat on the subway. If you aren't ready for a little bit of friendly competition, New York City is the wrong place to open a business. With that being said, I feel that there's still plenty of room for everyone (cocktail lounges) here. There are so many people in NYC, there are customers for everyone. If you open a place that has something new to offer, has great service and fantastic cocktails, you'll find your niche. New Yorkers want quality and will come back for it again and again.
GSN:
What excites you the most about this time in the world of cocktails?
JR:
Watching talented bartenders who came through my doors open their own places, and contribute to the cocktail world.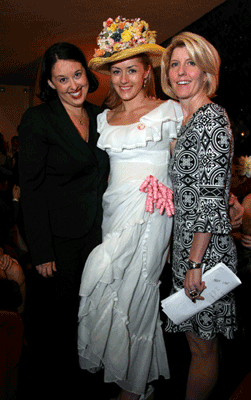 GSN:

You're lucky to have several important figures of the cocktail world living in the city. How often do David Wondrich, Dale Degroff, Charlotte Voisey and Gary Regan stop by your places?

JR:

David lives a few blocks away from Clover Club, so I see him pretty regularly for a few New York Sours. Charlotte is one of my closest friends, and also lived in Brooklyn while she was in NYC. She is my favorite person to go cocktailing with. I'll take any opportunity I can to do a bar crawl with Charlotte... we strike fear in the hearts of many when we belly up to the bar.

(pictured at right: Julie Reiner, Charlotte Voisey & Ann Tunnerman)

I receive the occasional pop in visit from Dale and Gary, but they live outside of the city so I tend to see them more at events and competitions. Although, when they do come by it is always good for a great evening of conversation and lots of laughs (especially with Gary, because he is just a little crazy -- in a good way.)

GSN:

If you could travel back in time and meet any historical figure from the world of cocktails, who would it be?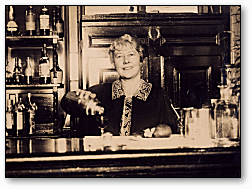 JR:

It would have to be Ada "Coley" Coleman

(at left)

. She was behind the stick at a time when women weren't found behind the bar. I would love to hear about her experiences at the Savoy, and what Mark Twain liked to drink.



GSN:

Mr. Twain lived during the golden age of the cocktail. He must have had a few. How do you think the world "cocktail" originated?



JR:

I have believed in a few different stories, but Dave (Wondrich) squashes all of them with his "historical facts". Who knows? :)

Julie's cocktail recipes have been published in a variety of magazines and newspapers including The New York Times, New York Magazine, Food & Wine, The Wall Street Journal, Esquire, Playboy, Gourmet Magazine, Bon Appetit, GQ, Fortune and The London Times. She has also made appearances on television's Iron Chef, Martha Stewart Radio, CNBC, and the Fine Living network.




Blair Frodelius lives in upstate New York and is the editor of Good Spirits News. He is also a professional musician and is co-founder of Out of the Box Entertainment. He can be reached at goodspirits@frodelius.com


- Interviewed by Blair Frodelius; May 10 & 26, 2010

Good Spirits News