Bum Rap
A Conversation with Jeff "Beachbum" Berry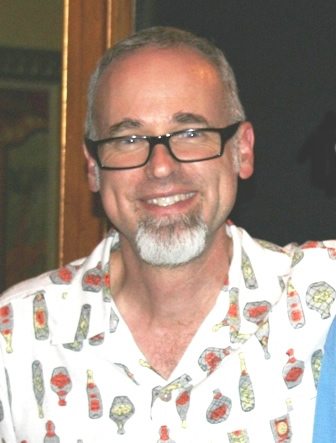 Jeff Berry was recently named one of the 25 most influential cocktail personalities of the past century by Imbibe Magazine. I'd have to agree. Jeff has singlehandedly revived the world of Tiki and faux tropical drinks for the 21st century. Along with writing five books, he has also authored "Tiki+" a cocktail application for the iPhone, and helped create drinks menus around the world from San Francisco to Sweden. I asked Jeff how he got hooked on all of this Tiki stuff...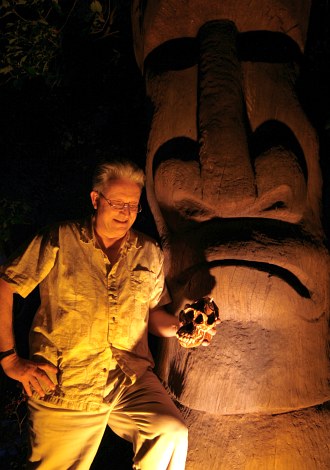 JBB: As a kid taken to Polynesian restaurants, I watched adults ordering these amazing-looking exotic cocktails served with ice cones molded around straws, fancifully garnished with flaming lime shells. But by the time I was old enough to order one, all the places that served them were disappearing. So I looked into how to make them myself.

GSN: Were you inspired by Sven Kirsten's

(pictured at right)

work on "The Book of Tiki"?

JBB: Dude, I wrote the Book Of Tiki's drink chapter! My first book pre-dated Book Of Tiki by two years, and Sven asked me to pen his "Mixologists And Concoctions" section. But sure, the finished work was incredibly inspiring. My good buddy Sven's book was largely responsible for the current Tiki Revival, and inspired us all with its dogged research and splendid images of the Polynesian Pop era. Sven's new CD, The Sound Of Tiki, is equally inspiring.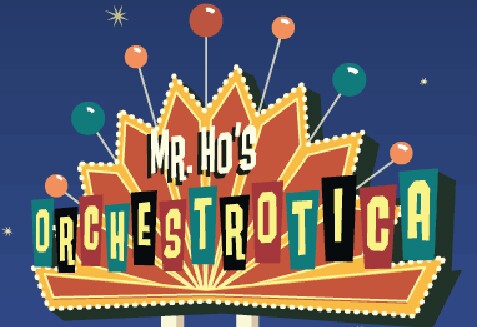 GSN: As a musician, I really appreciate a wide range of music. What other Tiki/Hawaiian CD's would you recommend to our readers?

JBB: Two vintage exotica music pioneers were martin Denny and Arthur Lyman. Both guys have good compilation "best of" CDs out there. Among contemporary exotica musicians, I love the ethereal soundscapes of Truus (especially her Ritualis CD). I'm also addicted to the jazz-inflected sound of Waitiki and Tikiyaki orchestra, and the Esquivel-influenced Mr. Ho's Orhestrotica.

GSN: Who are some of the legends of Tiki culture that you've had a chance to meet in person? Tell us a few stories about what they were/are like.


JBB: I loved Ray Buhen

(pictured at right)

, who in the mid-1990s was still mixing at the Tiki-Ti, the bar he'd opened in 1961 in East Hollywood. He was almost 90 years old then, but he still remembered his early days working at Don The Beachcomber's in 1934. He wouldn't divulge any recipes, though. Whatever the drink was, he would always bark that the ingredients were "rum and fruit juice!"

GSN: What in your opinion makes a Tiki drink, Tiki? Is it the ingredients, the type of glassware it's served in or something undefinable?

JBB: Good question, Blair! I think there are four bases to touch: 1) most (though not all) Tiki Drinks are rum-based; 2) they count fresh citrus juice among their ingredients; 3) they tend to be long drinks rather than short hoists; and 4) the best of them throw your palate a curve-ball with unexpected, unidentifiable layers of taste, usually accomplished through the sly use of syrups that non-tropical bars tend to ignore (orgeat, passion fruit, vanilla, falernum, cinnamon, etc...)

To me item #4 is the most essential: that balancing act, if you will, which juggles sweet and sour, strong and light, fruity and dry, providing new layers of taste that keep the flavor evolving from the opening notes to the midpalate to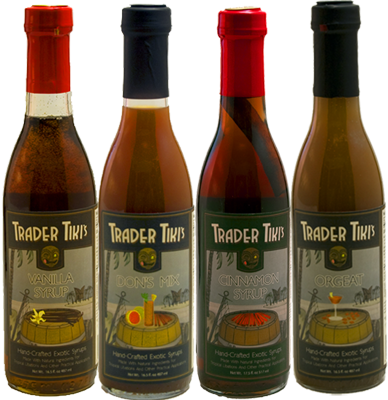 the finish.

GSN: I appreciate that you've included recipes in your latest book on to make homemade falernum, orgeat and pimento dram. Trader Tiki (another Blair) has come out with his own line of some of these classic syrups. Tell us how you came to work with Blair and develop these new products.

JBB: Gentleman that he is, Blair alerted me to the fact that he planned to make and sell a bottled Don's Mix and Don's Spices #2. Since I rediscovered Don's Mix and reverse-engineered the Spices #2 by combining evidence with guesswork and experimentation, Blair felt I had a right to know, and a right to participate in any revenue these two products generated. As I said, a true gentleman: he didn't have to offer that, but he did. While I tasted Blair's various versions and offered my suggestions, the two final syrups are very much Blair's own work. And he nailed them both, to boot!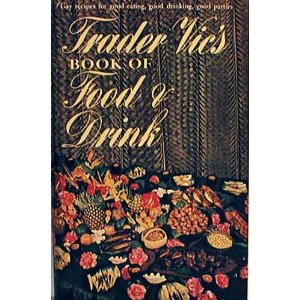 GSN: You've written several books about Tiki drinks and uncovered many recipes long thought to be forgotten. How have you managed to find so much material over the years?

JBB: I originally started in libraries, looking up old magazines, and in used book stores, searching for old recipe books. I also scoured swap meets and paper ephemera shows for old Polynesian restaurant menus. Aside from the Trader Vic books (which spilled many but not all of his secrets), I didn't learn much this way. The best information came from old Tiki bartenders themselves -- the few who would actually volunteer any information. Tiki bartenders were (and are) very cagey about their recipes, because keeping those formulas secret made these guys more valued employees to their bosses, who could no longer serve the drinks if the bartender left with his bespoke recipes. I may never have made much headway if not for the Internet, which gave me a way to connect with the children and grandchildren of long-deceased Beachcomber's employees, who had copied Don's recipes into their own private notebooks -- which their families kept among other memorabilia.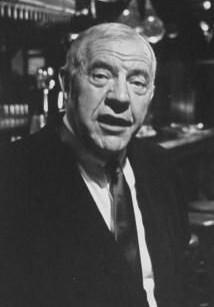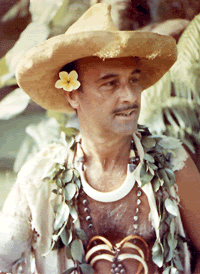 GSN: Do you think people like Ernest Raymond Beaumont-Gantt aka Donn Beach

(pictured at left)

and Victor Bergeron aka Trader Vic

(pictured at right)

were "in the right place at the right time" or were they visionaries in the world of cocktails?




JBB: Donn created the "right place and right time." He was a true visionary who conjured a new style of bar and cocktail out of thin air -- he single-handedly invented the Tiki bar and the Tiki drink. Vic copied him, no doubt, but was himself a visionary mixologist whose drinks kept the fad going strong for over 40 years.


GSN: I've managed to visit one of the original west coast Tiki restaurants (the Bali Hai in San Diego) a few years ago. Why do you think places like this fell out of favor over the years? Was it the quality of the drinks, the food or perhaps they seemed somehow politically incorrect?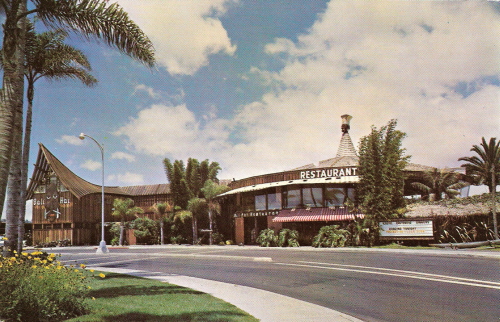 JBB: These places were big money-makers for over four decades. I can't think of a lifestyle or drink fad that lasted that long. Eventually, though, the fad entered middle-age, and became something your parents did. Viet Nam didn't help -- sipping a Coolie Cup in the Saigon Room was not the most p.c. way to unwind after an anti-war rally.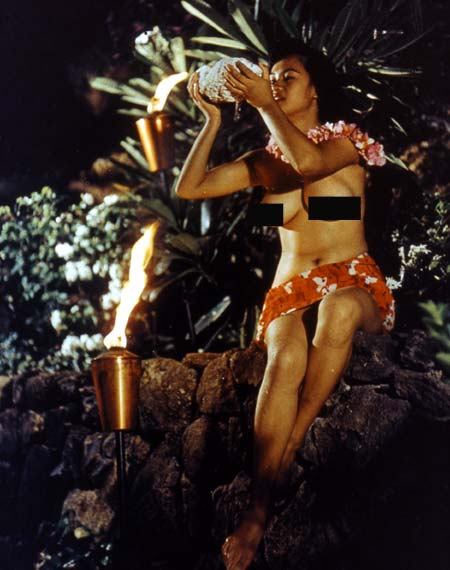 GSN: I have to admit that I'm surprised at the number of topless women depicted in the posters, glassware, cocktail stirrers and napkins, etc... Was it a product of the times or did Tiki culture support a sense of American superiority over foreign cultures and women in particular?

JBB: There were topless men depicted too. In tightly wrapped lava-lava skirts, no less.

GSN: I was intrigued to discover that the word Tiki means "man" in several languages. Who first used it in association with cocktail culture?

JBB: It wasn't used much during the first wave. Back in the day Tiki Drinks were called Exotic Drinks, or just Exotics. Also Tropical Drinks, but since most of them were invented in Hollywood, a better term is "Faux Tropicals." "Tiki" is actually a retro term, applied to the Polynesian Pop cultural phenomenon in the 1990s by urban archeologists of the genre like Sven Kirsten, Otto Von Stroheim, and Bosko Hrnjak.

GSN: How has Tiki made the transition into the 21st century? What are the factors that have helped it make a successful comeback?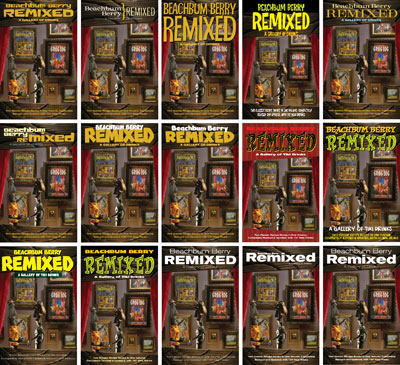 JBB: It's a happy side-effect of the mainstream cocktail renaissance that tropical drinks are now also getting respect. The original Tiki recipes by Don The Beachcomber and Trader Vic were 70 years ahead of their time -- they were creating culinary, farm-to-glass, craft cocktails before these terms existed -- and contemporary mixologists are not only finally catching up, but recognizing kindred spirits in Don and Vic.

My favorite part of Remixed is the "New recipes From The Tiki Revival" section, which showcases 43 new original Tiki-style recipes from bartenders around the world who've come to see the light about Tiki drinks. It's very exciting to see cocktailians finally embracing Tiki, and having all these forward-thinking drink-makers focus their talents on creating cutting-edge original exotic cocktails.

GSN: It seems as if Tiki is the next big thing considering Tales of the Cocktail used it as their 2010 Official Cocktail theme. Do you think it's time for a major Tiki bar revival, or will this be a passing phase like the dwindling speakeasy cocktail bars of the past decade.

JBB: The revival is already here: Smuggler's Cove in San Francisco, Painkiller in New York, Thatch in Portland, plus new craft-cocktail Tiki bars in London, Moscow, Melbourne, and Prague. The first wave of Tiki lasted almost half a century ... may this one last twice as long!

GSN: Ever had any thoughts of opening your own Tiki themed place? If so, what would you call it?

JBB: Even the thought of running a bar exhausts me. I'll leave that to people who enjoy working seven days a week.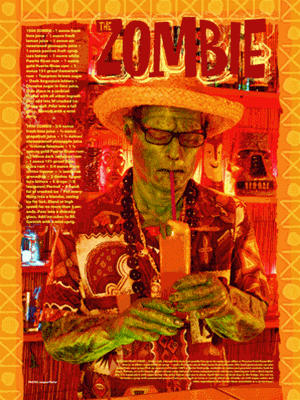 GSN: If you could only have one more cocktail in your life (God forbid!) what would it be? What is your favourite version of that recipe?

JBB: Only one? Perish the thought! Probably Donn's 1934 Zombie. Takes a while to throw together, but worth the trouble.

GSN: One of my favorites is Trader Vic's Mai-Tai which he created ten years after Donn's Zombie. The Mai-Tai recipe calls for Wray & Nephew 17 year old rum. What are the chances of finding an unopened bottle of in 2010?

JBB: Blair, you gotta believe! I can't help thinking that as we speak, untold bottles are sitting in suburban basements and attics, waiting to surface in garage sales.

GSN: Lots of great items can be found at garage sales. What are your three most prized cocktail related possessions and why?

JBB: My half-ounce jigger, quarter-ounce measuring spoon, and eye-dropper. Tiki drinks have so many elements in play, each ingredient has to be precisely measured to maintain balance.

GSN: Do you think there are any classic recipes left to discover, or have you found them all?

JBB: There are many more: Donn's Cannibal Grog and Dragon's Blood, Ah Fong's Coolie Cup, all of the Mai-Kai's drinks ... the list is still long!

GSN: If Donn Beach and Trader Vic were in a "black box" cocktail match, who would win?

JBB: It would be a twelve-round slugfest, with Donn's Hamilton Beach wizardry rope-a-doping Vic, but Vic coming back strong with his Polynesian hard-shake. In the end: both men standing, bowed but not broken.

GSN: Lastly, on a more global note, what do you feel is the origin of the word "cocktail"?

JBB: I'll leave that one to more erudite mixographers, such as Mr. Haigh and Mr. Wondrich. I'm just an old rummy who who doesn't know much of anything that happened prior to 1934.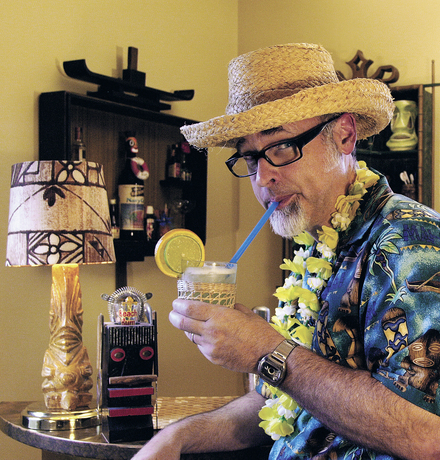 Jeff Berry is the author of "Beachbum Berry's Grog Log", "Beachbum Berry's Intoxica!", "Beachbum Berry's Taboo Table", "Beachbum Berry's Sippin' Safari" and
"Beachbum Berry Remixed"
.
Every one of these books is an invaluable source of information on both Tiki bar culture and the faux tropical drinks of the last 75 years.
Jeff currently conducts tropical drink seminars and tastings across the U.S. and Europe. He also serves on the advisory board of the Museum Of The American Cocktail.
Blair Frodelius lives in upstate New York and is the editor of Good Spirits News. He is also a professional musician and is co-founder of Out of the Box Entertainment. He can be reached at goodspirits@frodelius.com

- Interviewed by Blair Frodelius; May 4 & 19, 2010


Good Spirits News